about us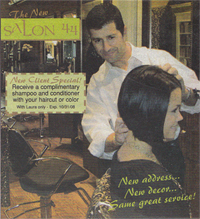 Owner Tony Melchionna opened the FIRST Salon 44 @ 44 Maple st in October 1987'. The NEW Salon 44 now @ 42 Maple street opened in July 08'.

Tony has been a Hairdresser for over 27 years and still continues to be a leader in the Hairdresser industry. He has worked for such companies as Paul Mitchell, Matrix, Cricket Shears, Nexxus and Clairol as their Platform Artist, traveling throughout the country.
He holds many Hairdressing Awards for his outstanding Cutting skills , and continues to both train and learn from the Top stylists in the world.
"We are A Hair-Focused Salon and specialize in ONLY Hair-Related Services".

"Come meet our Talented staff and enjoy our very friendly Salon"